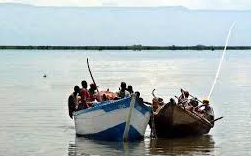 The police marine unit has rescued 28 people following yesterday's boat accident that occurred on Lake Victoria.
Over 30 people are said to have drowned between Kiziru and Bulago Islands when the boat they were travelling on capsized.
Marine Commandant James Pola says they have so far rescued those who had life-saving jackets but four others including a police officer are still missing.
He adds that they have boosted their operations with more experts and equipments to widen the search area.
The boat was moving on from Zingora on Koome Islands to Ggaba landing site. The accident is believed to have resulted from overloading and bad weather.
Early this year another boat accident on Lake Albert claimed the lives of over 100 people, most of them Congolese refugees returning home.