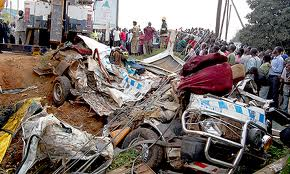 14 People have died on spot in motor accident along the Jinja-Iganga Highway.
The accident involved a taxi Reg. Number UAH 429H and a truck Registration Number UWT 859L, which had a head on collision.
This has occurred at Kakira Sugar Plantation along the Jinja-Iganga High way. According to the Jinja District Officer in charge of traffic Dickson Rugundana, the collision occurred after the front tyre of the truck burst.
Rugundana adds that 8 people survived the accident and have been rushed to Jinja Referral Hospital with serious injuries.
The bodies of the deceased have also been rushed to the same hospital. Preliminary police investigations have blamed the accident on reckless driving and over-speeding.