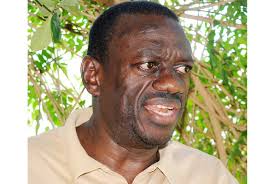 Uganda is currently facing an acute shortage of leaders to stir change and challenge the evils committed by government.
This is according to former Forum for Democratic Change (FDC) President Dr. Kizza Besigye, who says this problem has been brought about by the elites who fear the risks and dangers of leading the struggle.
Dr. Besigye however says this situation can be overcome through advocating for an independent Electoral Commission to organize free and fair elections.
Meanwhile Dr.Besigye has paid a visit to WBS journalist Andrew Lwanga who was clobbered by police while covering a demonstration by a group of unemployed youth in Kampala last month.
Dr. Besigye has condemned the police brutality on journalists while performing their professional duties.
He has thus asked the police chief Gen. Kale Kaihura to reign in on his errant officers.