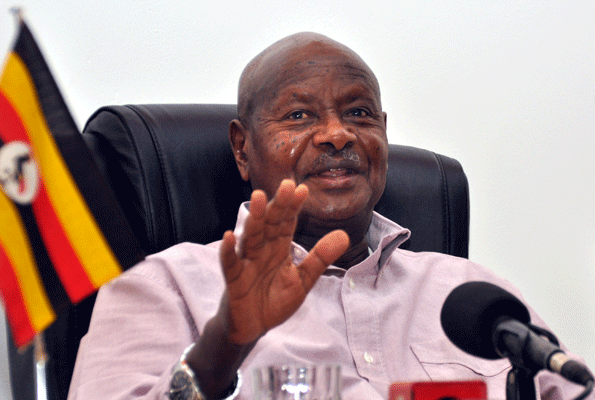 President Yoweri Museveni has made a major cabinet reshuffle dropping several ministers including the Attorney General and Finance Minister Maria Kiwanuka.
Among those dropped is Abraham Byandala from works to minister without portfolio. John Byabagambi now takes over as the full cabinet minister for Works and Transport.
Also notable is the dropping of the Attorney General Peter Nyombi who is now replaced by his former deputy Fred Ruhindi to by deputized by Mwesigwa Rukutana who was state minister for labour.
Maria Kiwanuka has been dropped from Finance and is replaced by Matia Kasaija, while she becomes a presidential adviser on finance.
Meanwhile the new appointees including Northern Youth MP and NRM Caucus Spokesperson Evelyn Anite who takes over as Youth and Children Affairs Minister from Ronald Kibuule. Jim Muhwezi is the new minister for information and national guidance, a portfolio he takes over from Rose Namayanja. Rose Namayanja was recently appointed treasurer for the National Resistance Movement (NRM).
Out spoken Dr. Chris Baryomunsi is the new minister of state for health in charge of general duties, While Ruth Nankabirwa is the new government chief whip.
In a press statement sent from State House this afternoon, the president says he has also restructured the Ministry of Education and Sports to the Ministry of Education, Sports, Science and Technology.
Below is the full cabinet list;
H.E. the Vice President –       KIWANUKA EDWARD SSEKANDI
Rt. Hon. Prime Minister –       RUHAKANA RUGUNDA
1st Deputy Prime Minister &  Minister of Public Service  –       KAJURA HENRY MUGANWA
2nd Deputy Prime Minister & Deputy Leader of Gov't Business in Parliament-       GEN MOSES ALI
3rd Deputy Prime Minister and Minister of East African Affairs   –       Vacant
Minister for Karamoja Affairs –                             MUSEVENI JANET KATAHA
Minister In-charge of      the Presidency    –           TUMWEBAZE FRANK
Minister in Charge of General Duties/Office of  the Prime Minister          –       PROF. TARSIS KABWEGYERE
Minister of Disaster Preparedness & Refugees                                  –       ONEK HILARY
Minister of Security –                                   BUSINGYE MARY KARORO OKURUT
Minister of Information & National Guidance –       MUHWEZI JIM
Minister of Agriculture, Animal Industry & Fisheries        –  BUCHANAYANDI  TRESS
Minister of Defence –                                     KIYONGA CRISPUS
Minister of Education, Science, Technology and Sports-       ALUPO JESSICA     ROSE EPEL
Minister of Energy and Minerals     –                            MULONI IRENE
Minister of Finance and Economic Planning   –       KASAIJA MATIA
Minister of Works and Transport                                 –       BYABAGAMBI JOHN
Minister of Justice & Constitutional Affairs-       KAHINDA OTAFIIRE
Attorney General –       RUHINDI FRED
Minister of Gender, Labour & Social affairs –       MURULI MUKASA
Minister of Trade, Industry & Cooperatives          –       KYAMBADDE AMELIA ANNE
Minister of Water & Environment      –                              KAMUNTU EPHRAIM
Minister of Lands, Housing & Urban Development                         –       MIGEREKO DAUDI
Minister of Health –       TUMWESIGYE ELIODA
Minister of Foreign Affairs     –       KUTESSA  KAHAMBA SAM
Minister of Information & Communications  Technology-       NASASIRA MWOONO JOHN
27.  Minister of Local Government                             –       MWESIGE ADOLF
Minister without Portfolio    –       BYANDALA  ABRAHAM
Government Chief Whip –       NANKABIRWA SENTAMU RUTH
Minister of Tourism Wildlife & Antiquities     –       MUTAGAMBA   MARIA
Minister of Internal Affairs –       NYAKAIRIMA ARONDA
MINISTERS OF STATE:
Office of the President:
Minister of State for Economic Monitoring –       BANYENZAKI HENRY
Minister of State for Ethics and Integrity                 –       LOKODO SIMON
Office of the Vice President:
Minister of State
Vice President's Office              –                                        NYANZI VINCENT
Office of the Prime Minister:
Minister of State for Relief and Disaster Preparedness  –       ECWERU MUSA FRANCIS
Minister of State for Northern Uganda     –       AMUGE OTENGO REBECCA
Minister of State for Karamoja                 –     OUNDO NEKESA BARBARA
Minister of State   for Luwero Triangle       –       KATAIKE       SARAH NDOBOLI
Minister of State for  Teso Affairs   –       AMONGIN APORU CHRISTINE HELLEN
Minister of State for Bunyoro Affairs     –       KIIZA ERNEST
Ministry of Foreign Affairs:
Minister of State for International Affairs                 –       ORYEM OKELLO
Minister of State for Regional Affairs       –       MATEKE  PHELEMON
Ministry of Agriculture, Animal Husbandry and Fisheries
Minister of State for Agriculture     –       SSEMPIJA VINCENT
Minister of State for Fisheries         –       NYIIRA ZERUBABEL   MIJUMBI
Minister of State for Animal  Industry   –       RWAMIRAMA   K. BRIGHT
Ministry of Education, Science, Technology  and Sports
15. Minister of State for Sports –       BAKABULINDI CHARLES
Minister of State for Primary  Education     –       MUYINGO JOHN CHRYSOSTOM
Minister of State for Higher Education, Science and Technology –   TOKODRI TAGBOA
Ministry of Energy and Mineral Development:
Minister of State for Energy –       D'UJANGA SIMON
Minister of State for Minerals –       LOKERIS AIMAT PETER
Ministry of Finance, Planning & Economic Development:
Minister of State for Finance (General)                            –       JACAN (JALONYO) OMACH FRED MANDIR
Minister of State for Planning –       BAHATI DAVID
Minister of State for Investment    –       AJEDRA GABRIEL GADISON ARIDRU
Minister of State for Privatization-       KAJARA ASTON PETERSON
Minister of State for Micro- Finance    –       AMALI OKAO CAROLINE
Ministry of Gender, Labour and Social Development:
Minister of State for Gender and Culture                         –       ISANGA LUKIA NAKADAMA
Minister of State for Youth and Children Affairs                       –       ANITE EVELYN
Minister of State for Labour, Employment and Industrial  Relations     –     KAMANDA  BATARINGAYA
Minister of State for the Elderly and Disability:  – MADADA SULAIMAN
Ministry of Health:
Minister of State for –       BARYOMUNSI
Health (General)                               CHRIS
Minister of State for Primary Health Care –       OPENDI OCHIENG  SARAH
Ministry of Lands, Housing and Urban Development:
Minister of State for Housing  –       ENGOLA SAM
Minister of State for Urban Development   –       NAJJEMBA       ROSEMARY
Minister of State for Lands   –       NANTABA AIDAH
Ministry of Trade and Industry:
Minister of State for Trade  –       WAKIKOONA DAVID
Minister of State for Industry –       MUTENDE SHINYABULO JAMES
Ministry of Tourism, Wildlife and Antiquities:
Minister of State for Tourism  –       AKIROR AGNES
Ministry of Water and Environment:
Minister of State for Water –       KIBUULE RONALD
Minister of State for –       NABUGERA
Environment                                    MUNAABA FLAVIA
Ministry of Works and Transport:
Minister of State for Transport   –       CHEBROT STEPHEN CHEMOIKO
Minister of State for Works-       KIYINGI ASUMAN
Ministry of Justice and Constitutional Affairs
Deputy Attorney General –       MWESIGWA RUKUTANA
Ministry of Defence
Minister of State for Defence  –      ODONGO JEJE
Ministry of Internal Affairs
Minister of State for Internal Affairs                         –       BABA JAMES
Ministry of ICT
Minister of State for ICT and Communications         NYOMBI TEMBO
Ministry of Local Government
Minister of State for Local Government  –       AADROA ALEX ONZIMA
Ministry of Public Service
Minister of State for –       SSEZI PRISCA
Public Service                                  MBAGUTA
Ministry of East African Affairs
Minister of State for East African Affairs    –       SHEM BAGAINE
SENIOR PRESIDENTIAL ADVISER FOR FINANCE
(Bretton Woods Institutions)            –       KIWANUKA MARIA