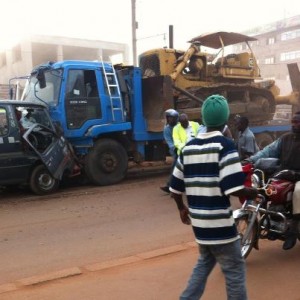 Three people are confirmed to have died in the Bwaise accident.
Kawempe DPC Siraje Bakaleke has confirmed that 11 others have been rushed to Mulago hospital in critical condition.
The accident involved a caterpillar truck registration number UAK 801J whose driver lost control while slopping from Sir Appolo Kaggwa Road and rammed into a string of over 10 other vehicles.
The most affected motorists were those that were stuck in the rush- hour traffic jam near the fly over connecting to the Northern By-Pass.
According to Bakaleke, this is the second accident to occur at this point in less than two weeks.
The last one claimed the life of three year old.
Traffic flow remains paralyzed along Sir Apollo Kaggwa right upto Kawempe as traffic police struggle to clear the road.
The police are yet to establish the identities of the deceased and injured.