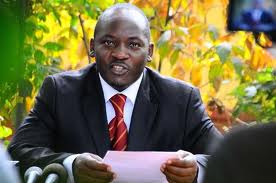 The opposition is not taking the arrest of one its members lightly.
Members of For God and My Country (4GC)pressure group have announced plans to travel to the Congolese capital Kinshasa on Thursday next week.
According to the UPDF, former Forum for Democratic Change leader Dr. Kiiza Besigye's aide Sam Mugumya is said to be held there over alleged involvement in rebel activity, while the Congolese government says he is being held for illegal entry into the country.
Addressing a news conference at the IPC offices on Katonga road, the group's coordinator Mathias Mpuuga says they are worried by these contradictory statements.
He says they have now resolved to file a petition before the Congolese Embassy in Kampala on Tuesday seeking an explanation on Mugumya's arrest and also secure visas for the Thursday journey.