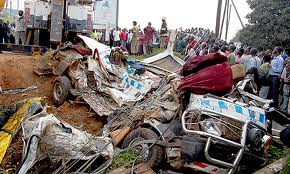 Five people have been confirmed dead in an accident in Lyantonde.
The accident involved a coaster registration number UAQ 158E.
The coaster was carrying people who were returning from burial in Kanungu District.
The Area Police spokesman, Noah Sserunjogi says the driver of the coaster was sleeping, when the vehicle swayed off the road, falling into a trench.
Sserunjogi says that the identities of the dead are not yet to confirmed but 34 other people have been injured.
Details of this story in our subsequent bulletins