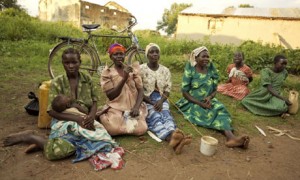 58 % of Ugandan women think it is justified for a man to beat a woman compared to 44% of men.
This is according to the 2015 Africa scorecard on Violence against Women and Girls.
The report which highlights Male and Female attitudes to Gender based violence including adolescents, further shows that 62% of girls between the ages of 15-19 think it is justifiable for a man to hit a woman compared to 52 % of Ugandan boys in the same age bracket.
However, Central African Republic tops the list of the 26 countries studied, with 75 % of its men saying hitting a woman is justified.
It is followed by Guinea at 66 % and Congo at 62%. Malawi has the lowest ranking with only 13 % of men saying it is okay to hit a woman.
Uganda, Kenya and Burundi tie in 9th place with each country having 44%.
The most common form of violence against women continues to be beating and the reasons given by men include, burning of food, women going out without telling them, neglecting children, and refusing sexual relations.
The report blames this trend on the failure by majority African governments to uphold rights of women leaving them exposed.
It comes ahead of 2015 African Union Heads of State Summit due tomorrow under the theme "Year of Women's' Empowerment and Development in Africa"