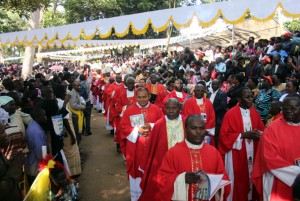 A total of 59 people were arrested yesterday during the Martyr's Day celebrations at Namugongo.
The police say these were arrested for several offences such as breaking into people's cars, stealing mobile phones, fighting and over drinking among others.
The Regional Police Commander Kampala East Musa Nabenda says the suspects are to be produced in court to answer related charges.
Meanwhile, over 40 people are stranded at Namugongo Martyrs shrine.
Many of these were left behind by their leaders while others do not have transport back home.
Jane Francis Kasato, a member of the organizing says five children were also left stranded yesterday but were picked by their parents this morning.
Kasato however says this year, the number of stranded people this reduced from the 120 last year.
The police are still deployed at the shrines.
Relatedly, the late Father Charles Mugisha has been described as a courageous and hard working person that the church will miss.
Father Mugisha died in an accident during preparations for the celebrations and was a member of the organizing committee.
Preaching at a special mass for the deceased, Father Darius Magunda said the church has lost a very enthusiastic priest who was involved in several projects including supporting women organizations and other initiatives.
Story by Ben Jumbe