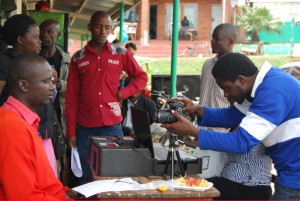 10 suspected cult leaders have been arrested in Buvuma district for allegedly preaching against the government program of mass enrollment.
The group is said to belong to the 666 cult based at Mwiriri landing site.
The police spokesperson for Savanah Region Lameck Kigozi tells KFM that according the group's teachings, their members are not allowed to register for national identity cards.
He says the group has been charged with disobedience of statutory orders and is to be produced in court in Lugazi.
Meanwhile in Kayunga district, leaders have met the Sabanyala Maj. Baker Kimeze over claims that his people are being sidelined in the ongoing mass registration program.
The meeting was called to defuse growing tension that may result into disruption of the national ID project in the Kayunga district.
The delegation included the district chairman Eng. Stephen Dagada, the Chief Administrative Officer, Resident District Commissioner and the district coordinator of the enrollment project Ruth Nakachwa.
During the meeting held at Kimeze's residence in Kyerima village, he called for thorough investigations into claims that some enrollment officers had intentions to under estimate the number of Banyala by registering them under different tribes.
However, Nakachwa assured the leaders that she had already issued a warning to the enrolled officers against any form of district, adding that those found guilty will be prosecuted.
The ministry of of internal affairs is currently conducting a nation wide mass registration of Ugandan citizens to facilitate the issuance of national identity cards.