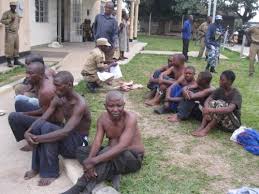 Eight suspected Rwenzori attackers have so far surrendered at the reception center in Kasese district.
The army spokesperson for the Rwenzori Region Lt. Ninsiima Rwemijuma however says they did not surrender any weapons.
This comes days after president Yoweri Museveni granted the elders' request to have the suspected attackers pardoned.
Rwemijuma says some of the wounded are being treated as the screening process continues.
Two reception centers were established last week at Bumadu primary school in Bundubugyo and in Kasese at the Kasese District Social Hall.
The district Chairperson Lt. Col. Mawa Muhindo says those who surrender will be taken to rehabilitation centers before they are allowed back into the community.
Meanwhile,  the opposition in Parliament has protested the trial of suspects behind last week's attacks in Rwenzori in the army court martial.
According to UPDF Deputy Spokesperson, Maj Henry Obbo, the trials to be chaired by Maj. Gen Levy Karuhanga, kick off tomorrow in Kasese district.
While addressing the media at Parliament today, Shadow Defence Minister, Hassan Kaps Fungaroo said most of the suspects are being tried for military offences which they may not have committed.
However, Maj. Obbo says the crimes that were committed involved use of fire arms and attacks of security installations.