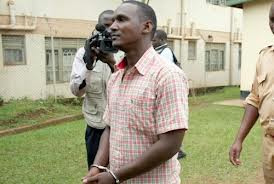 No bail for Kalungi.
Adam Sulaiman Kalungi, on trial over the death of the Late MP Cerinah Nebanda has been denied bail.
Through his lawyer Kania Renato, Kalungi who is said to have been the boyfriend to the deceased had argued that he had a constitutional right to bail.
He also cited the fact that his co-accused persons had been freed.
However the prosecution team led by Barbara Masembe has objected to his bail application, pointing to a previous attempt by Kalungi to flee the country, after reportedly committing the crime.
The presiding magistrate, Lameck Mukasa has now ruled that Kalungi cannot be granted bail on grounds that the case is in advanced stages, and that he has failed to prove to court that he has a permanent residence in Kampala.
He has been sent back to Luzira prison.
Kalungi together with six others faces charges of manslaughter and illegal possession of narcotics.