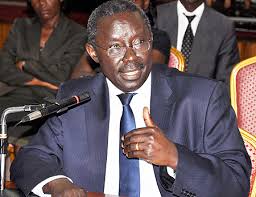 The Attorney General has asked the Constitutional Court to dismiss the petition by Western Youth MP Gerald Karuhanga challenging the re-appointment of former Chief Justice Benjamin Odoki.
Principal State Attorney Wanyama Kodoli has told a panel of 5 justices led by Remmy Kasule that there is no law barring president Museveni from re-appointing Odoki as Chief Justice.
Kodoli argued that the constitution allows judges who have clocked the mandatory retirement age of 70 years to be recalled to serve on the bench.
However, when judges tasked Kodoli to cite the specific article that allows re-appointment of a Chief Justice he failed.
Without giving a date, the judges said they would give their ruling as soon as it is ready.
Earlier Karuhanga and his team stormed out of court protesting the judges' decision not disqualify two of their colleagues over alleged bias.