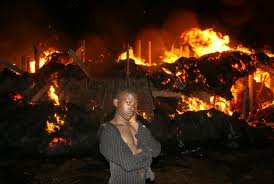 The Prime Minister of Buganda Charles Peter Mayiga has called for calm as investigations into the fire at the Kasubi tombs continue.
The fire gutted one of the houses, known as the Twins House.
Visiting the burnt house this afternoon, Mayiga regretted the incident saying the police and the kingdom have started investigating the cause of the fire.
Some of the eyewitnesses attributed the fire to a charcoal stove that was left burning in the twin's house.
Meanwhile, the Police have been heavily deployed to block the growing number of people flocking the tombs.