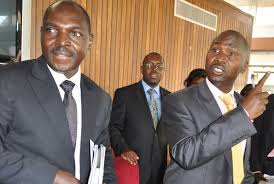 All is not well with the NRM rebel MPs.
The Constitutional Court has dismissed their application seeking to stay the execution of today's ruling.
This comes just hours after four out of the five justices ruled that the MPs be thrown out of parliament temporarily pending determination of the main petition filed by their party.
Lawyers representing the expelled MPs had asked court to allow them appeal before the Supreme Court to stay the execution of the order.
In their application, the lawyers had argued that the ruling does not only deny the constituents' representation in parliament, but tax payers' money will be wasted since the order does not stop the MPs from withdrawing their salaries.
However, the judges led by Justice Stephen Kavuma have dismissed the application saying the final decision on the main petition shall be delivered not later than October 15th