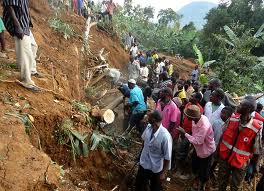 Another land slide has hit Bududa district in Eastern Uganda.
The landslide that resulted from a heavy down pour this afternoon has left an estimated 8000 people affected.
According to the district chairman John Baptist Nambeshe, the most affected parishes are Namirumba and Matua in Bushiyi sub-county.
The Red Cross Secretary General Micheal Nataka says they have already sent a team to assess the magnitude of the problem.
Meanwhile the State Minister for Disaster Preparedness Musa Echweru says government has also sent a team to assess the situation before concrete measures can be taken to rescue the affected population.
In 2010 the district was hit by similar mudslides that left over 50 people dead and thousands displaced.