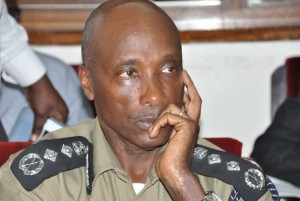 The police have issued a fresh alert, this time targeting fuel stations in Kampala.
According to the police spokesperson Judith Nabakooba, they have received intelligence information that terrorists plan to set ablaze fuel stations and other public places that draw huge crowds in Kampala.
She explains that they have resolved to offer security to all fuel stations in the city to ensure the safety of all Ugandans as the festive season sets in.
Meanhile, the police are heavily deployed at Makerere University. The Commandant Makerere University police Michael Mugabi says the joint anti-terrorism squad is manning all the major entrances and exits to the institution with all short cuts now blocked.
An earlier alert issued showed that the terrorists were also targeting higher institutions of learning.
This is the fourth alert issued after the Westgate attack in the Kenyan capital Nairobi.
The last one was issued on November 8th with the police chief Gen Kale Kayihura requesting members of the public to exercise vigilance, especially in public places such as places of entertainment/worship and public events.
The IGP also advised Events organizers to work with police to ensure maximum security.
In a statement, Gen. Kayihura said they had received information of planned terror attack (suicide bombing) on Nakumatt/Garden City.
He however asked the public to remain calm and not to panic.