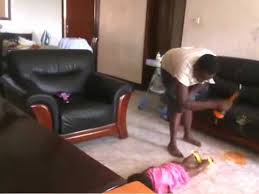 The Uganda Human Rights Commission has described the sentence handed to a housemaid accused of assault as a 'miscarriage of justice'.
This comes a day after court handed a four-jail term to Jolly Tumuhiirwe for torturing one year old Anella Kamanzi.
The commission's Secretary Gordon Mwesigye says he expected the 22-year old maid to have been prosecuted under the Prohibition and Prevention of Torture Act 2012 as she was the best candidate to face torture charges and not assault.
He says the case is an eye opener for the commission to seriously sensitize relevant stakeholders like the Judiciary, DPP and police on how to best implement this new Act that came into force two years ago.
Mwesigye made the comments while attending a workshop to assess the implementation of the road map to the Prohibition and Prevention of Torture Act 2012 by various stakeholders.
Earlier however, the African Network for the Prevention and Protection against Child Abuse and Neglect welcomed the sentence handed to the maid who tortured a toddler.
The organisation's communications officer Marlon Agaba told KFM that it is a fair judgement and will give time for the offender to reform.