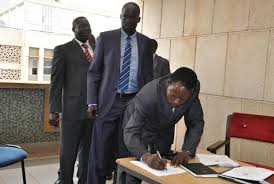 The fate of a petition to reintroduce the Anti-homosexuality bill in Parliament hangs in balance.
This is after the NRM caucus resolved that the process will have to wait until a committee constituted to analyze the petition filed in the Constitutional Court finishes its work in a month's time.
Government chief whip, Kasule Lumumba says the committee, to be chaired by Vice President, Edward Ssekandi will thereafter table the report to determine when the bill will be re-tabled.
Lumumba says efforts by Kawempe North MP, Latif Ssebagala to collect signatures should be shelved in the meantime.
However, Ssebagala says his drive to collect the signatures and table the petition before Parliament does not depend on decisions made by the NRM caucus.