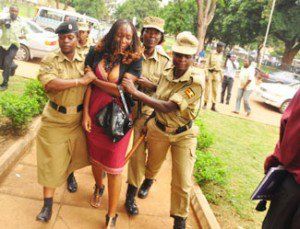 A group of human rights activists has staged a demonstration at the US Embassy this morning.
They however failed to deliver their petition to the US Ambassador to Uganda and were instead advised to deliver it tomorrow (Tuesday).
The group led by Barbara Alimadi is opposed to Foreign Affairs minister Sam Kutesa becoming the next president of the UN General Assembly.
They want the US government to revoke Kutesa's travel documents to bar him from travelling to the US on account that he has a tainted personal record.
They also want Kutesa's candidature cancelled ahead of voting due on Wednesday to give members ample time to review his personal record.
"We had our demo this morning at the embassy. What we wanted to do was to send out a message that on 11th June, we are opposed to the fact that Mr. Kutesa should be confirmed as the president of the UN General Assembly.
Unfortunately they refused to receive our petition and we were asked to return tomorrow," Alimadi told KFM on phone.
She said they will try to email the petition to the embassy later today.
"Apparently they were not very comfortable with us being there, but we got the message across and that's what we wanted," she said.
However speaking to KFM on Sunday, the state minister for Foreign Affairs Henry Okello Oryem said Kutesa had left the country for the US ahead of Wednesday's vote.
He dismissed calls that Kutesa's candidature be dropped saying those against Kutesa don't have the picture of the enormous policy role Kutesa played in the region in terms of peace and security.
"His strongest point is that under his watch, Uganda has managed to achieve enormously in terms of peace and security in the region far and beyond what any other country in the East African region or even Africa has done and even to a great extent being able to do something which the United States and Europe could not do," Oryem told KFM.