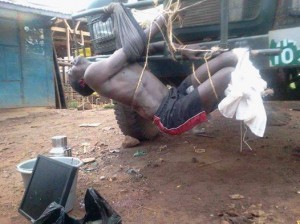 The Uganda People's Defence Forces has denied reports that its soldiers were involved in the torture of a civilian in Lira.
The unidentified man, alleged to have been a thief, was beaten and stripped by a mob last week and later tied on a UPDF stationary lorry under repair
In a statement, UPDF spokesperson, Lt. Col. Paddy Ankunda says the force's military truck was misused but no soldier was involved in this violation.
He says they are carrying out joint investigations with the police and legal action will be taken against the civilians involved.