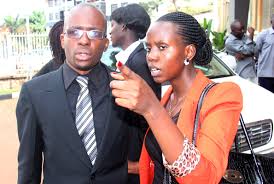 The Attorney General Peter Nyombi has testified against human rights activist Andrew Karamagi.
Nyombi narrated how Karamagi grabbed his speech in the presence of High Court judges, the Acting Chief Justice Steven Kavuma, and other dignitaries causing him great embarrassment.
He will return to court on 26th August for cross examination.
Karamagi's lawyers led by Isaac Kimaze Semakadde  says they were not served with witness statements and have asked Court for more time as they peruse the files before they can cross examine Nyombi.
Karamagi is said to have grabbed Nyombi's speech arguing that he is unfit to hold the office of the Attorney General since his integrity and advice to government was under question.
The incident allegedly occurred in January this year during the launch of the new law year.
Karamagi is charged with being a common nuisance and annoying the person of the Attorney General, which acts also inconvenienced members of the public who were listening during the launch.