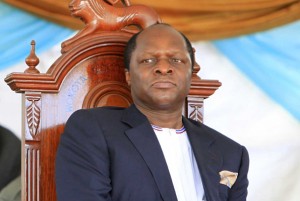 Members of the Buganda caucus have asked Banyala leaders in Bugerere to respect the will of the majority of the people in the region.
This follows their alleged attempt to block the Kabaka's planned visit to Bugerere county by asking for formal communication from Mengo.
The chairman of the caucus Godfrey Kiwanda says the Kabaka's visit is a sign of unity and reconciliation of different tribes in the region.
Kiwanda says Banyala leaders should also respect the constitution that guarantees Kabaka's freedom of movement across the country.
The emerging disagreements bring back memories of the September 2009 riots that broke out after an advance team for the Kabaka, the king of the Buganda kingdom, was blocked from entering Kayunga district. 
The Ugandan government feared the visit would incite violence because the Banyala who claim to have seceded from the Buganda kingdom, saw the Kabaka's visit as an affront. 
Government said the Kabaka could not visit unless Mengo officials, Banyala leaders opposing the visit, and the Internal Affairs minister had met and agreed.
The riots eventually spread to seven Kampala suburbs, with mobs angry that the Kabaka was blocked from visiting Kayunga, which is an area in central Uganda.  
Five radio stations were taken off the air/suspended for allegedly inciting violence.