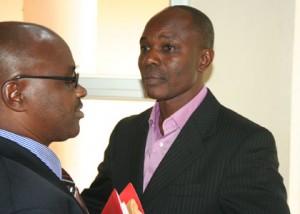 City Businessman Hassan Basajjabalba has been granted bail.
Hassan Basajjabalaba and his brother Muzamir Basajjabalaba, the director of Haba group of companies face charges of defeating tax laws.
They are charged with 3 counts of defeating tax laws, forgery of judicial document and uttering a false document.
The Anti-Corruption Court Judge Catherine Bamugemereire has released the two brothers on grounds that the constitutional provision that says that a once a lower court grants someone bail, it cannot be cancelled on committal had been contravened.
She adds that the accused were not given a chance to be heard before their bail was cancelled.
The judge said the duo will not be required to pay more bail money after they paid 50 and 40m shillings respectively at the Buganda Road Court.
They have been asked to deposit their passports and land title with the registry and not to leave the country without informing court
Their sureties included Odo Tayebwa and Kassim Basajabalaba among others.