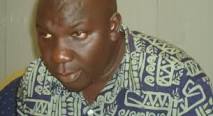 Police has warned the public to watch out for homemade explosives. The police spokesperson Fred Enanga (pictured above)  says terrorists are now using home care products like tooth paste, soap and cosmetics among others to make explosives.
The warning comes after the police arrested a man identified as Sheikh Ismael Kalule a resident of Kiwatule alleged to be in possession of ammunition and literature on how to make explosives using cosmetics.
"Such explosives are made very cheaply from common materials and are used in many countries but they are very deadly," Enanga says.
He says they are investigating Kalule's case, adding that this is the second time he is arrested on terrorism charges.