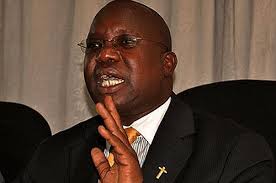 Getting the big fish in the fight against corruption is not easy.
This admission has been made by the Ethics Minister Simon Lokodo a day after a survey carried out by Human Rights Watch, accused government of failing to punish high senior ranking government officials involved in abuse of public funds .
Addressing journalists at Media Centre this afternoon Lokodo said corruption is real and had infiltrated every institution but government was committed to eradicating it.
Minister Lokodo criticized the title "Letting the big fish swim. " Saying it was not absolutely true.
He further told journalists that government was coming up with new strategies of reducing and eradicating this vice that include a law on asset recovery from individuals implicated in corruption.