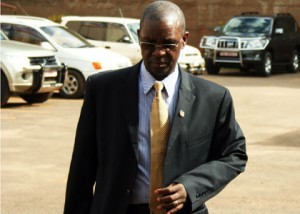 The permanent Secretary in the Office of the Prime Minister Pius Bigirimana has given testimony pinning Geoffrey Kazinda, the interdicted principal Accountant in the same office.
Bigirimana told Court that on the 26th July, 2012 while in his office, he received a team of detectives together with Kazinda who was holding some documents including security cash papers and cash withdrawal forms.
The documents were purportedly signed by Bigirimana.
He says after verifying the documents, he discovered that the signatures they bore were not his.
The security papers were directed to the Director Banking Bank of Uganda, purportedly signed by Bigirimanai without Kazinda's signature yet both of them are signatories.
He says for Bank of Uganda to authorize the payment both of them should have signed but he did not.
He adds that the documents were requesting for foreign exchange and transfer of funds which were allegedly abused by Kazinda despite several warnings against the same.
Court is still in session and Bigirimana is currently being cross examined by Kazinda's lawyer Macdusman Kabega.