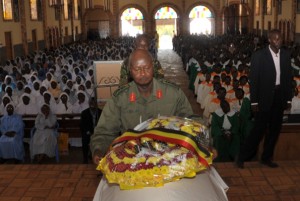 President Yoweri Museveni has hailed the late Rt. Rev. Dr. Deograthius Muganwa Byabazaire whom he described as a good shepherd, who dedicated his life to serving people.
Bishop Byabazaire died on 8th this week after suffering from diabetes and high blood pressure on Saturday shortly after returning from India where he had gone for treatment.
The president said that although the late came from a rich family but he chose to go into priesthood where there are not a lot of resources which showed his fear of God
He explained that the death of Bishop Byabazaire was a big loss not only to the diocese but also to the country as a whole.
He called on the people of Hoima to emulate his example especially poverty alleviation, saying for them to live and remember his life, they should put in practice what he has been telling them to do.
The late byabajaire died at the age of 73 and barred in
Bujumbura Diocese premises in Hoima .