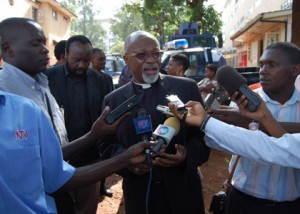 Leading anti-corruption activist Retired Bishop Zac Niringiye has vowed to press on with the campaign against graft amid growing challenges.
He says intimidation and persecution will not deter anti -corruption activists from fighting the vice.
Bishop-Niringiye was speaking shortly after he appeared at Wandegeya police station before the OC CID Emmanuel Gumisiriza.
He had reported back to the police over charges of inciting violence.
Flanked by his lawyer David Mpanga and Anti-Corruption Coalition Uganda's executive director Cissy Kagaba, Niringiye has vowed not to give up the fight because many people are suffering as a result of corruption.
Niringiye a member of the Black Monday movement is accused of distributing flyers containing anti-corruption messages to Makerere University Students.
The police accuse him and 8 other activists of inciting the students.
He was arrested last month but later released on police bond and asked to report back for further questioning.
This will be the 3rd time in less than one month that he has  appeared before the police station over the same charges.