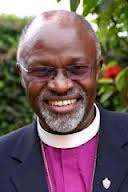 Accepting the shs. 5m is betrayal of the nation.
More calls are being made for Members of Parliament to reject the five million offered for consultation on the controversial bill on marriage and divorce.
The latest is coming from former Bishop of Kampala Zac Niringiye, who says the 5 million for each of the over 300 MPs, if channelled to the teachers' salaries, would help change many lives.
Regarding the clause on cohabitation, Niringiye advises couples that are not legally married to sort their lives in a Christian way and not just sit wait for the law. The president recently made a directive that the MPs be given Shs.5m each to facilitate their consultations with the electorate on Bill.
While delivering his Easter message at St Luke's Church in Ntinda, a Kampala suburb, Bishop Niringiye also said that
the resurrection of Jesus Christ is meant to give hope to the nation.
Niringiye has asked Christians not despair but have hope in the resurrected Christ for a better nation with improved social services in key sectors like education and health.
He has also challenged believers to use this Easter to reflect on their lives and become true witnesses of God.