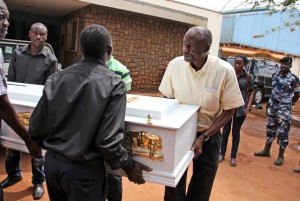 The body of the late comedian Paddy Bitama Kasozi will be laid to rest today at 2:00pm at Mitala Maria along Masaka road.
This is after the police released the DNA test results confirming the late Bitama's paternity on Saturday.
The results confirmed one Peter Njegula as the father to the deceased.
According to the head of the comedy group Amarula Family Nicholas Mpeirwe, with the help of the police they have already transported the body of the deceased to the family burial ground.
He also says a requiem service is to be held at the deceased's ancestral home at midday.
The comedian succumbed to cancer on January 11th 2014.