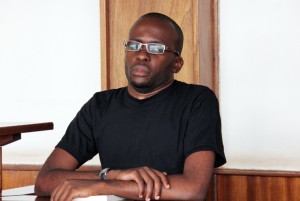 Anti Corruption activist Andrew Karamagi has been granted bail.
He appeared before Buganda Road Court Grade one magistrate Simon Kintu who charged him with being a common nuisance and annoying the person of the Attorney General.
It is alleged that on 31st of January  2014, Karamagi without lawful orders removed a written speech from the Attorney general, inconveniencing members of the public who were listening during the launch of the new law year.
He was ordered to pay Sh 1 million  cash while his sureties who included MP Gerald Karuhanga were bonded 10 million shillings not cash.
Investigations into the matter are complete and court will begin hearing his case on March 6th.