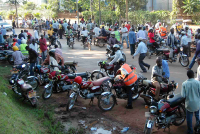 Boda boda cyclists are protesting in different parts of the city against the ongoing police operations targeting the sector.
They accuse the police of detaining their colleagues in unclear circumstances even when they have the riding permits and other requirements.
The cyclists have been seen attacking police and UTODA officials during the protest.
They began at Clock Tower, where they beat up all officials in sight, before heading to Wandegeya and Bwaise.
At Wandegeya, one official was knocked down by the cyclists, who followed him and beat him up.
The police has however retaliated and many cyclists including those that were not part of the demonstration have been arrested.
Another group of about 50 of these commercial cyclists is currently stationed at Nakumatt along Yusuf Lule Road.
The group that came from Pride Theater is now headed to Bat Valley Primary School.
The police recently mounted an operation on boda boda cyclists, targeting those operating with out permits, those that disrespect traffic regulations as well as those riding stolen bikes, among others.