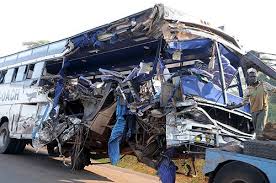 The Government has been faulted for not responding swiftly to help victims of the Nimule accident.
The accident claimed lives of over 30 people including Ugandans, South Sudanese and Kenyans at Nimule about 35 km from Juba town on Monday morning.
Speaking to KFM Ayivu County MP Bernard Atiku has accused government of not doing enough to help those affected.
He says government ought to have helped affected families transport the bodies of their dead relatives.
He says this was a failure on the part of government which has a responsibility of protecting and taking care of its citizens.
A team of police officers led by the Highway Integrated patrol has been working with their South Sudan counterparts to ensure the bodies are returned home.
13 were brought to Mulago hospital and handed to relatives on Wednesday.