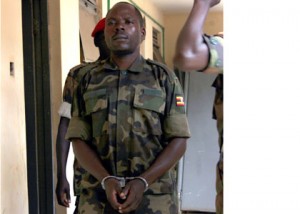 The trial of the murder cases against a UPDF officer starts today.
Private Patrick Okot, a UPDF soldier attached to Air defense at Bombo accused of killing 10 people including 5 fellow soldiers will appear before a panel of 7 members of the Court Martial.
This follows a court decision on Wednesday last week to have the case transferred to Bombo town.
The Court Martial Chairman Brig. Fred Tolit, says the decision to take the case to the crime scene has been made due to increasing public demand and will be open to the public.
Okot is charged with 15 counts including murder, aggravated robbery and attempted murder.
He is said to have abandoned his guard station and his gun at Bombo Army barracks on the night of 9th March 2013, proceeded to Gogonya village in Bombo town council and robbed one Halima Rukiya of Shs. 20,000, a hand bag and a mobile phone.
Prosecution led by Capt. Fred Kangwamu alleges that after the said robbery, Okot continued to the next village at Mpakawelo where he shot more people.