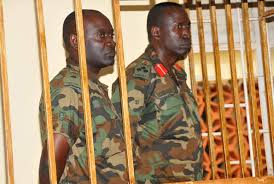 Former commander of the Ugandan contingent in Somalia, Brig Michael Ondoga returns to court today to secure his temporary release.
Ondoga is to appear before seven members of the General Court Martial chaired by brig. Moses Ddiba Ssentongo.
He is accused of theft and failing to perform his duties in connection to operations at Amisom.
Prosecution also alleged that Ondonga while at Mbuya army headquarters made false accusations against Lt. Ali Muzoora before the chief of Defence forces saying he was incompetent and could not speak good English despite him holding a master's degree.
The allegations were also made against 11 other officers who are accused of being money minded and creating cliques.