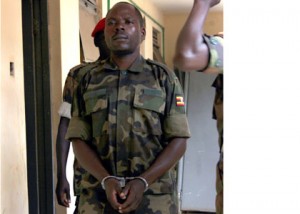 The Court martial has sentenced Private Patrick Okot to 90 years in prison.
He is to serve 65 years for the ten counts of murder,  20 for robbery and  15 years for the three counts of attempted murder, all of which will run concurrently.
After serving the 65 years he will also have to serve 25 years for failure to protect army war materials.
The Chairman of the court-martial Brigadier Fred Toolit says Private Okot was a fully trained soldier mandated to protect citizens but instead decided to murder them.
Earlier, prosecution led by Captain Fredrick Kangwamu asked Court to give Okot the maximum sentence of death saying he had shown no remorse both during and after the trial.
However Tolit maintained that the death penalty is no longer mandatory.
The convict is accused of storming a local bar in Bombo Town council in March this year, randomly shooting at soldiers and civilians.
Story by Ruth Anderah