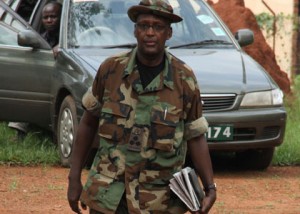 Brigadier Henry Tumukunde will know his fate on March 14th.
That is the date set by the General Court Martial when a decision will be made on whether or not to convict him.
Tumukunde is accused of spreading harmful propaganda while on a radio talk show in 2005.
Tumukunde also faces another charge of conduct prejudicial to order and discipline.
He is also said to have attacked the current government for alleged failure to promote what it stood for when it opted for the bush in 1986.
He appeared this morning before a panel of seven members chaired by Brigadier Fred Tolit.
Prosecution has today responded to submissions by lawyers representing former army spy.
Earlier, his lawyers led by Macdusman Kabega called for his acquittal on grounds that their client was a member of parliament representing the army and made the remarks in that capacity.
However, prosecution led by Capt. Fredrick Kangwana has asked court to convict Tumukunde, on grounds that it had been proved beyond reasonable doubt that he committed the said offences.