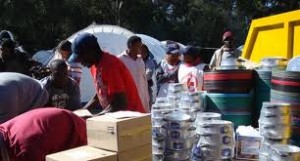 The Uganda Red Cross Society has started distribution of non -food items to the people of Bududa district.
The district was recently hit by mudslides that left atleast one person dead and nine others injured.
According to the Red Cross Secretary General Micheal Nataka, the relief items are being distributed at Bushiyi sub county headquarters.
Nataka says they are targeting the 21 affected households and the 96 others that are at high risk.
This, he says excludes the households whose crop fields were destroyed.
Meanwhile government is yet to deliver relief food to the affected families.