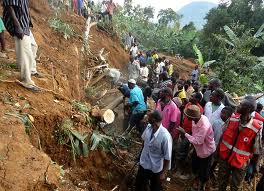 As the rainy season sets in, the people of Buduuda district are asked to prepare for the worst.
District leaders have warned of mass landslides that may result from the fresh cracks seen on the mountain Elgon slopes.
The Buduuda district chairman John Baptist Nambeshe says the sub counties of Bumayoka and Busiiyi are among those that are most likely to be affected.
He is now calling upon the disaster preparedness ministry to start relocating people to avert the possible losses.
The call comes just a day the state minister for refugees and disaster preparedness Musa Echweru made an appeal to people living in all disaster-prone areas to start vacating to avoid loss of life and property.
Meanwhile, the ministry of education has instructed district authorities to compile lists of schools that have been affected by the rains.
A number of schools in the districts of Mubende, Rakai and Kayunga among others have been severely affected by the rains.
The Commissioner for Secondary Education Francis Agula says no formal communication has been received by the ministry which limits its action.
Agula says the ministry will try to mobilize resources for possible intervention.