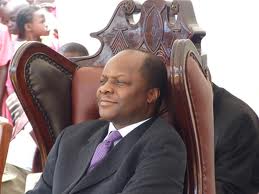 The Kabaka of Buganda has dragged the head of the Nte Clan to court over a piece of land.
In the documents filed before court, the Kabaka accuses Katongole Samuel Miwanda of taking over the clan land located on Block seven plot 1082 in Katwe fraudulently.
Through his lawyers of Kafeero and Company advocates, the Kabaka is seeking for a declaration that Katongole's name was fraudulently put on the lease certificate and orders to cancel the land tittle issued earlier to the accused.
The High Court's Land Division Registrar Michael Otto has now summoned Katongole to defend himself on the accusations within 15 days.
Story by Ruth Anderah