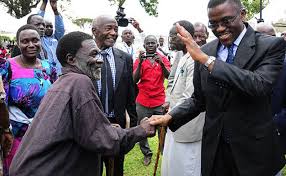 Buganda Premier Charles Peter Mayiga has dispelled claims that Mengo government has intentions to evict all unlawful tenants off its land.
He also says Buganda has no plans to evict those occupying properties that were recently returned by central government.
Mayiga made the revelation while receiving the Buddu County headquarters from the Masaka district authorities that have occupied it since 1966.
Mayiga noted that the Kingdom has often heard claims that the Buganda government was considering evicting all squatters from the land and premises upon regaining full management over them which is not true.
Mayiga said they are seeking to attain due recognition as the lawful owners of the properties and that they will agree on terms of tenancy with all the current tenants.