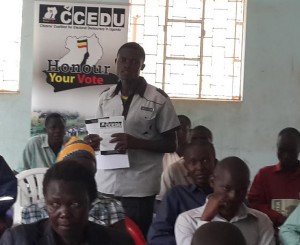 After 5 candidates were successfully nominated, campaigns for the Bubulo West by-election are now set to begin tomorrow.
Meanwhile other forms of preparation are also in high gear.
The Citizen's Coalition for Electoral Democracy has embarked on training of 40 community observers in Manafwa district ahead of the voting exercise slated for April 10th.
The group's coordinator Crispy Kaheru says the training that is jointly conducted with the Electoral Commission is mainly meant to prevent electoral related violence.