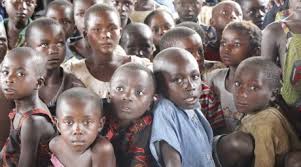 Child rights activists are calling for more stringent punishment for people convicted for child trafficking.
The call is prompted by the growing statistics of children being trafficked both internally and transnationally.
According to the Executive Director ANPPCAN Uganda chapter, Anslem Wandega, in 2013 half of the 408 people trafficked internally were children.
Speaking to journalists, he said the problem of internal child trafficking is bigger than is portrayed, with children accounting for only 36 out of 429 transnational cases reported last year.
He says that modern day slavery is over taking drug trafficking to become the number one criminal activity in the world.
It is against this back ground that they are calling for a tough stance against the vice.
The Trafficking in Persons Act 2009 prescribes a maximum sentence of a 15- year jail term for offenders.