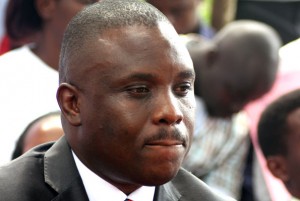 City Lord Mayor Erias Lukwago has been impeached.
In a council meeting called this morning, the motion to have Lukwago thrown out was seconded by 29 councilors.
Presided over by Kampala minister and Executive director Jennifer Musisi, the councilors confirmed details in their petition that Lukwago is incompetent.
Tumwebaze says the Lord mayor now has 21 days within which to appeal the decision.
The move was in defiance of a High Court order stopping the meeting and the entire impeachment process.
Meanwhile, several Members of parliament from Kampala have been blocked from accessing the KCCA chambers.
They had turned up for the special council meeting called to discuss details of the tribunal report convicting Lord Mayor Erias Lukwago of incompetence.
In the drama that ensued two people including a councillor and Lukwago's personal assistant have been injured while two others have been arrested.
At Kisekka market, the police have fired teargas to disperse rowdy traders who had taken to the streets protesting the mayor's impeachment.
Kampala minister Frank Tumwebaze has meanwhile hit back at critics who have accused him of acting in haste. He says the 14 days within which he was required to take action elapse on November 28th. He also argues they have acted within the law as the council was fully constituted.