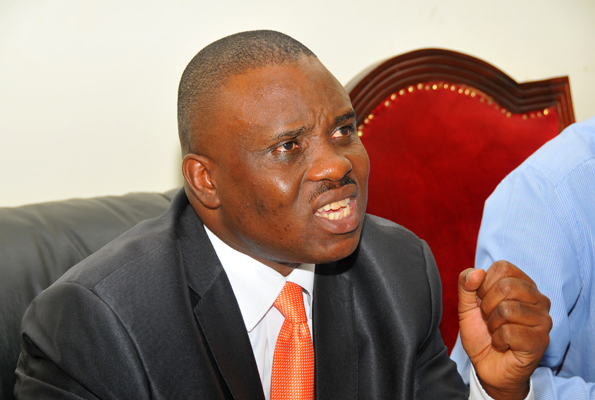 In a latest move to try and regain his office,  for the second time in a space of about three months Kampala Lord Mayor Erias Lukwago written to the Registrar of the Court of Appeal asking why his case has not been fixed for hearing.
In a letter dated November 25, Lukwago has tasked Deo Nizeyimana to explain the delay yet the Supreme Court directed that the case be fixed and heard as soon as possible.
Through his law firm of Lukwago and Co. Advocates, Lukwago laments of how the registrar had assured him that his matter would fixed in November  but in vain.
"When our Mr Chrisestom Katumba together with the respondent (Mr Lukwago) visited your chamber for purposes of securing a hearing date and interacted with your good-self, you assured them that the matter would be fixed for November 2014. However, the same has not yet been fixed," reads Lukwago's letter in part to court
He adds: "in the premises; we once again request that the above application be fixed for expeditious hearing and determination. We still await your urgent notification of a hearing date.."
Lukwago's letter to the registrar Nizeyimana is in response to the Supreme Court directive of August 21 to Court of Appeal to immediately fix and hear Lukwago's appeal.
But three months down the road, the same has not been done.
Mr Lukwago had appealed to the Supreme Court challenging the decision of Justice Steven Kavuma of Court of Appeal; who sat as a single judge and kicked him out of City Hall in March this year, barely three hours after he had been reinstated by high court judge Lydia Mugambe.
In their unanimous ruling, a panel of five justices led by Dr Esther Kisaakye Mayambala directed Lukwago to go back to a panel of three justices of the Court of Appeal to hear his appeal saying,  the Supreme Court  did not have powers to entertain an appeal arising from a decision of a single judge of the Court of Appeal.
But when this newspaper contacted the Judiciary's Public Relations Officer Mr Erias Kisawuzi yesterday on when Lukwago's matter will be fixed for hearing, he asked for more time upto to day to first consult the registrar of Court of Appeal before he could ably respond.
However, in earlier interviews, Mr Kisawuzi had said Lukwago's matter was to be heard in November.
Mr Lukwago was in November last year controversially impeached by 29 KCCA councilors over alleged incompetence, abuse of office and misconduct.
He has since then been locked out of City Hall despite petitioning court to quash the Justice Bamugemereire report that has not been heard as several applications and technicalities were raised that have not been resolved to date.
Story by Anthony Wekesa