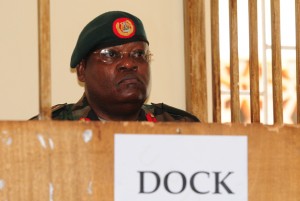 The trial of the former Head of the National Leadership Institute (NALI), Col. Shaban Bantariza has taken a new twist after his co-accused turned into a prosecution witness.
Capt Edson Muhiribwoha has told court that he prepared the requisition form for the Sh.67 million to withdraw money for purchase of the tractor that was bought by Col. Bantariza.
During cross examination he also told court that he was imprisoned for one year and five days in connection with the alleged fraud but he was released without a charge.
Capt Muhiribwoha told court that the tractor was purchased by Col. Bantariza but he could not tell whether the institution followed the procurement procedures.
Bantariza is alleged to have received a tractor donated to the institution by the Ministry of Finance but he claimed to have purchased it at 67 million shillings.
He is also charged with conduct prejudicial to good order, ill treatment of subordinates, diverting 500 liters of fuel meant for the institute's activities to private use.
The trial is before the chairman of General Court Martial sitting in Makindye Moses Ddiba Ssentongo.