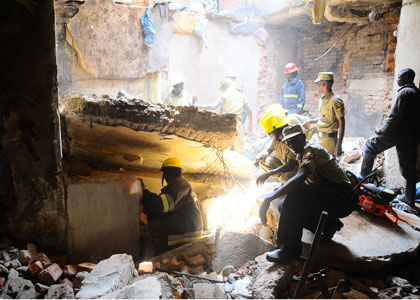 Eight of the people injured by the collapsed building have been discharged, while two remain in critical condition.
According Ashim Kasinga the officer In charge of the Mulago Police Post, 4 of the 14 people admitted this morning died from the severe injuries sustained.
Mulago Hospital spokesperson Enock Kusasira says the two in critical condition sustained serious burns on over 30% of their bodies.
The building located along Nakivubo Mews next to Magoba Arcade in down town Kampala is said to have been under renovation when it collapsed this morning.
Meanwhile the police have promised to release a formal report on the accident.
Speaking earlier at the scene, police boss Gen. Kale Kaihura blamed KCCA for not following up the construction works after approving the initial plan.