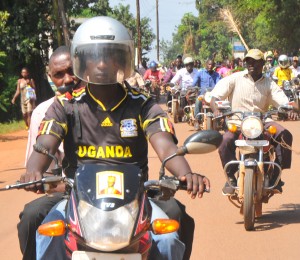 Following the release of the annual police report, showing an increase in motorcycle accidents, commercial cyclists are now set to work with police to reverse the trend.
The report released yesterday indicates that many cyclists lack experience, ride under the influence of alcohol and often overload their motorcycles.
Speaking to KFM, the chairman of bodaboda  cyclists  in Kampala central Athanasius Kafeero said they are now working with the police to enforce the newly introduced regulations are effectively implemented.