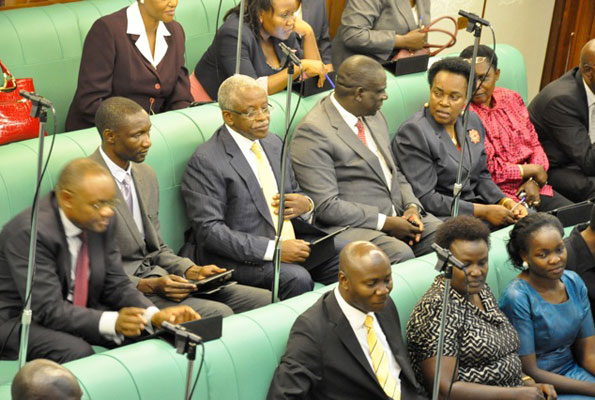 On his first day as a back bencher, former Premier Amama Mbabazi is seated on the fourth row of the ruling National Resistance Movement (NRM) side.
Clad in a dark blue suit and yellow neck tie Mbabazi's arrival caused excitement at the House with many members not able to conceal the look of surprise on their faces.
Asked  how he felt about the development, Mbabazi said he was not moved and that would now concentrate on serving the people of Kinkiinzi. "The president knows why he does the things he does and he has the right to do so", Mbabazi added.
We also spoke to MPs Michael Mawanda and Mohammed Nsereko who said they were all glad to initiate the "super minister" on to the back bench.
For government spokesperson Ofwono Opondo, this was no big deal. In a tweet, Ofwono said "the UK's Tony Blair, Gordon Brown were prime ministers, and our very own Prof. Gilbert Bukenya was Vice President and are now backbenchers".
Relatedly, Democratic Party (DP) President Mr. Nobert Mao is warning the opposition against inviting former Prime Minister Amama Mbabazi into their camp.
Since Mbabazi was fired last Friday, a section of opposition politicians has been welcoming him with open arms citing his experience and financial muscle.
However, DP's Norbert Mao says Mbabazi's hands are not clean and he will most likely turn away opposition supporters.
"Opposition political parties must always have a working plan instead of welcoming whoever defects from the NRM", Mao added.
Earlier, the minister in charge of mobilization and Nwoya County Member of Parliament Richard Todwong said the former Premier's exit would not shake the NRM as a party.
Addressing the media in Gulu town on Monday, Todwong said there was nothing special on the changes made by President Museveni.
Under the constitution, the President has the prerogative powers to appoint a Prime Minister with the approval of Parliament.
"The NRM Party is steady, stronger and firmer now than ever before" said Todwong.
The country now waits anxiously for his next move after he was relieved of his duties as leader of government business amid growing reports of a widening rift between him and the president.
Mbabazi who was sacked by President Museveni on Friday has since been replaced by former health minister Dr. Ruhakana Rugunda.